Even if you've tried before and failed…
"How to Quit or Cutback Drinking in 30 Days Without Ever Leaving Your Home…Guaranteed!"
If you're looking for a tested and proven way to finally kick or cutback your alcohol addiction once and for all…without the shame and embarrassment of walking down to your local AA chapter… then this will be the most important letter you've ever read.
Before I tell you why, I want to make sure you don't miss the exciting news that could change your life. Just scroll to the bottom of this page to read about it now. Okay, now here's why:
My name is Dave Andrews, and for 18 years I was addicted to alcohol. It ruled my life practically every waking moment, from the time I got out of bed to the moment I fell asleep each night. When I wasn't drinking, I was always planning the next time I would be drinking.
I tried everything to get sober. I read books. I went to therapy. I tried hypnotherapy. I attended AA meetings.
Now, AA had a very positive impact on my life, but it wasn't until I had a few key breakthroughs that my sobriety really became my new "normal." At first, I kept these breakthroughs to myself. But as I began to talk with other recovering alcoholics, I realized that they desperately needed these breakthroughs, too!
I finally documented what made the difference in my sobriety and formalized it into a 30-day recovery program. I'll tell you all about it in just a minute. But first, let me ask you a critical question…
Do You Have What It Takes to Get Sober?
Please, before you read another word on this page, answer the following questions:
Are you sick and tired of being dependent on alcohol and all the planning, rationalizing, and obsessing that goes along with it?
Have you reached rock bottom — either a drunk driving incident, a violent blow-up, a health scare, or some other embarrassing "drunk moment" that has made you realize you have to change NOW?
Are you going to do whatever it takes to finally quit drinking, or cutback drinking substantially — no matter what?
The reason I ask you these questions is because you have to want to change to get sober. If you do not want to change I can't help you.
Yes, you might be scared of what it means to cutback drinking, or get completely sober, I know I sure was, but just remember…
You Are NOT Alone!
I am sure you recognize some of these names below. These are just a small handful of examples of high profile people that struggled with alcohol and other addictions and were able to recover from them to go on living meaningful and exciting lives.
Ben Affleck – actor
Drew Barrymore – actor
Kristen Davis – actor (Charlotte on Sex and the City)
William Shatner – actor
Robin Williams – actor/comedian
Stephen King – writer
Tracy Morgan – comedian/actor
Craig Ferguson – late night talk show host
Eric Clapton – musician
Ted Turner – media mogul
Wynonna Judd – musician
Brett Favre – football player
Former President George Bush – politician
Bruce Willis – actor
Dionne Warwick – musician
Og Mandino – author
Mary Tyler Moore – actor
When you reach a low point in your life and recover you can reach new heights you never dreamed possible.
There are millions of examples of "regular" people that completely recover from alcohol abuse to live fulfilling, exciting and happy lives. Are you going to be one of those inspiring examples?
Once you conquer your biggest challenge in life all other challenges seem minor in comparison. This gives you the freedom to go on and create success and prosperity in every aspect of your life.
Even though it may not seem like it you are closer than you ever have been at changing your life and finally overcoming your abusive drinking, and the proof is that you are reading this.
You can re-invent yourself and create health, wealth, excitement and passion in your life.
OR You Can Let Alcohol Keep Running Your Life
In the United States alone there are approximately 85,000 deaths a year related to alcohol, and more than 2,000,000 (YES, 2 MILLION) worldwide.
Do not make the mistake of believing "It won't happen to me" because over 5,000 deaths a day are proof you could be next and you might not have a "next time" to look at this program later.
Here are some high profile examples you might have heard of, all of which ended their life early due to either alcohol, drugs and/or addiction.
John Belushi, Elvis Presley, Marilyn Monroe, River Phoenix, Chris Penn, Heath Ledger, Chris Farley, Bruce Lee, Billie Holiday, Ken Caminiti, Anna Nicole Smith, Elisa Rebecca Bridges, Truman Capote, Ernest Hemingway
It Doesn't Have To Be This Way!
It took me 8 years, 10 months and 6 days to get and stay sober for good from the first time I actually tried to deal with my problem.
It didn't have to be that way!
My first exposure to alcohol started at age 13, where I got drunk on vodka with some friends and was sick for the next three days.
Four years later on New Years Eve 1989/1990 I shared a 6 pack with a friend. That was where the shift inside started and was the beginning stages of almost 18 years of alcohol abuse.
I drank because it made me feel like I belonged. I felt happy. I felt more fun and interesting and was more confident with women. Life finally seemed great! And to me it was because of alcohol, not in spite of. Alcohol had given me the life that I felt I had been missing out on.
All through college I was surrounded by drinkers and it seemed normal to me. There were few consequences from my drinking. I got great grades. I worked throughout college. I had lots of friends, a serious girlfriend and seemingly my whole life was ahead of me.
But there was one problem. I drank more nights of the week then not. And when I didn't drink I was always thinking about and planning when I could drink again.
I drank throughout college and after graduating I never let up, in fact to compensate for not being surrounded by the college drinking community I started drinking alone, started hiding my drinking and started drinking even more.
Vodka became my drink of choice, because I could somewhat mask the smell. I could supplement my drinking with vodka so it appeared to everyone around me that I was drinking a "normal" amount, when in fact I was drinking far more than the normal drinker.
That stage lasted for a year and a half and shortly after getting married I tried for the first time to get sober. But not really. I just wanted to drink "normally", not really quit drinking. I was convinced that I just had to go back to how I drank in the early years.
This was something I would try many times over the next 8 years.
My attempts to quit included all sorts of things.
They included going to therapists and psychologists.
They included books and other self help material.
They included attempts at substituting my problem for other ones, such as food and marijuana.
They included trying to control how much I drank, how often I drank and what types of alcohol I drank.
They included hypnotherapy.
They included willpower, extensively.
They included new workout regimes and diets.
The bottom line is none worked for very long. They all led me back down the same path, but leaving me worse off than before. I might quit drinking for a few weeks, or even at one point a few months, but I always came back. I came back with a vengeance, making up for lost time.
Hiding alcohol had become a regular part of my life and obsessing over when and where and how much I could drink became a daily ritual.
And then in 2006 things finally changed. My chances were running out and I knew my "9 lives" of drinking were almost gone.
It was clear that at any moment my wife would leave me and I would lose her and my two precious daughters.
And once I lost them to divorce I had no idea where my drinking would take me. The little control I actually felt I had over it was kept in check by living with my family that I loved more than anything. With them gone, my career could very well be soon to follow.
I was only really good at two things in my life during my peak drinking years, my career and my drinking. With the pain of possibly losing my family I knew that keeping any level of sanity in my life would most likely be lost. Drinking would play an even greater role in my life, which was a scary thought.
I finally gave in went to AA, which was really the start of sobriety for me as it opened up my eyes to the possibility of living a sober life when I met others like me that had done it. AA saved my life, that I do know, but I unfortunately cannot claim that it was AA and the 12 steps that allowed me to really recover and thrive in sobriety.
It was something else, something that was right in front of me since my late teens. I had the answer inside, but the alcohol blinded me from seeing it and using it. Once I was able to really get the alcohol out of my system, let go of the shame and guilt, it was like a light turning on inside of me.
I KNEW THE ANSWER TO SOBRIETY ALL ALONG.
Introducing The 30-Day Sobriety Solution: Your First Comprehensive Multimedia 30-Day Solution To Thriving in Sobriety – Done From The Privacy of Your Own Home
30 Days/30 Solutions – To Transform Your Life & Thrive in Sobriety
And once I knew the answer and started applying it in my life, my life took off!
I saved my marriage. My career reached new levels. My health and fitness changed dramatically. I finally started living with purpose and passion instead of fighting the daily urges and cravings of alcohol and always waiting for the next drinking "session".
For the first time in my life I knew what I wanted and I knew how to get it. The 30-Day Sobriety Solution had what I needed to get the life that I always knew I was meant to live.
As I applied what I have put together in The 30-Day Sobriety Solution in my life the changes I made were amazing, and below you can see how these changes physically manifested.
And this is only some of the changes that I have made in my sobriety. Since getting sober my life and the lives of people around me have changed for the better in so many ways I feel so incredibly lucky.
As of August 16th, 2012 I celebrated 5 years of sobriety — and believe me, I NEVER thought that was possible, and I certainly didn't think I would be as happy as I am today.
Sobriety has allowed me to fulfill so many of my dreams that were hidden behind alcohol abuse. Today I am a speaker, sobriety coach and have been a featured guest and a "sobriety expert" on over 50 radio shows around the United States and internationally.
I also was selected from a nationwide search to be a featured author in the book CSI: Courageous Stories of Inspiration. The book features influential speakers such as Dr. Robert Schuller, Ann Jillian, and Dave Dravecky, and was released in early 2012.
I have had extensive specialized training in the area of alcohol, addiction and recovery and I have had the distinct honor of attending and meeting many New York Times Best Selling authors and leading teachers.
Below are photos with Marianne Williamson (best selling author – known for work with A Course in Miracles and discussions with Oprah), Bill Phillips (best selling author Body for Life), Jack Canfield – also with my wife (best selling author Chicken Soup for the Soul Series and The Success Principles), Deepak Chopra (best selling author of numerous books) and Wyatt Woodsmall (co-founder International NLP Training Association and the person that first trained Tony Robbins many years ago in NLP). I even received a Practitioner Level 1 Certificate for the training I completed with Wyatt Woodsmall.
I got the honor of studying Positive Psychology under Robert Biswas-Diener and became a Certified Comprehensive Positive Psychology Coach which has really helped me build my private practice over the last few years.
And most recently I have almost completed an extensive Board Certified Coaching (B.C.C.) program led by Tony Robbins (one of my favorite role models) and Cloe Madanes.
The 30-Day Sobriety Solution
For the first time ever I am offering you a powerful, comprehensive and original program of alcohol recovery that you can do in the privacy of your own home in just 30 days. But before I get to the specifics of what you get, let me share with you some critical details regarding how it evolved and why it is such a powerful and effective program.
For over the last three years I have researched, tested, coached and gotten feedback on some of the most powerful solutions I have learned over the last twenty years from all of these success authors and speakers and combined them with some of the most effective recovery principles I have studied and applied.
I have attended over 100 AA meetings and talked with over a thousand alcoholics inside and outside the rooms of AA, while compiling detailed notes regarding what has worked and not worked. This included listening to over a 100 detailed personal stories of men and women sharing their story of recovery from alcoholism and other addictions.
Personally I conducted and published interviews with authors and experts on alcoholism and recovery, as well as interviewed people about their own personal story of recovery.
I have 100's of hours of 1×1 Private Sobriety Coaching experience.
Over the last 5 years I have read, listened to or watched hundreds of books, memoirs, documentaries and stories on alcoholism, addiction and recovery. Including researching many of the leading programs on recovery, including AA, SMART, SOS, RR, WFS, DrinkWise and Moderation Management. Also I have read countless articles, forum posts, blogs and websites regarding the topic of alcohol abuse and recovery.
With regard to health and fitness it has become a passion for me that has allowed me to complete many health and fitness related programs over the last 2 years. I completed an 18 week nutrition and fitness transformation program created by one of the most highly regarded experts in this field, Bill Phillips.
I did all of this research with one intention in mind, to integrate the most powerful recovery techniques with the most moving and enlightening recovery stories to create this program.
I then took all that I have learned from the success authors and speakers, which include content from hundreds of books, speeches and conferences over the last 20 years, and seamlessly integrated it into this content.
Last, and MOST IMPORTANTLY, I lived the life of a practicing alcoholic for almost 18 years and today I live the life of someone that is truly sober and excited in life. My personal story and experiences throughout this program demonstrates to you that not only do I understand part of your story and struggles, but I also understand how to get to the other side of them.
The end result of all of this extensive research and testing is a 30-Day multimedia comprehensive and original program of alcoholism recovery that can be done in the privacy of your own home.
Over these next 30 days I ask for the privilege of being your mentor, helping take you down the pathway to a successful sobriety.
Inside this program you are going to learn what countless others have learned to use successfully to recover from their alcohol dependency.
But not just recover, to actually thrive in sobriety. To completely quit and live a sober life or to simply cutback and regain control of your drinking.
How would you like your decision to stay sober be as easy as watching your favorite TV show?
Are you ready to follow in the footsteps of countless others that have completely transformed every aspect of their life by taking that ever first important step of taking action today to get sober tomorrow and beyond?
Now, let's get to what you really want to know, will this work for you…
What is most exciting for me to be able to do is to say "Don't Take My Word" on The 30-Day Sobriety Solution! Instead, just listen below of LIVE INTERVIEWS of people just like you.
Ann, David, Chris and Steve all struggled with excessive drinking. None could imagine a life without alcohol where they were really happy and excited about life. But by doing The 30-Day Sobriety Solution thriving in sobriety became a reality for them, even when everything else they attempted in the past had failed.
Watch the video below if you want some to hear some of the excerpts from 3 of the live interviews and what they had to say, or scroll below and you can hear their whole interviews. And note these are just some of the interview testimonials I have done – I have many more, and along the right side of this page you can see some of the other testimonials the program has received.
Ann's Sobriety Solution Story
Ann is in her early 30's, has her MBA from a prestigious ivy league school and lives in New York City. The day of this interview not only had she just celebrated her first sober birthday in 18 years, but she also was celebrating 78 days of continuous sobriety for the first time in her adult life.
Listen to her interview below as she shares some of her story of recovery and her thoughts on what her future holds, or read below for some quotes from the interview.
[]
"the thing I really like about The Sobriety Solution is that it's really focused on getting you to thrive in sobriety and getting you really excited about it. Up until I found The 30-Day Sobriety Solution, it just always seemed like in order to really conquer alcohol I need to have a boring, somewhat painful life that would probably not involve much with social activities and that probably would be committing myself to life with not a lot of fun. But The Sobriety Solution, you know, it got me excited about it"
"it's really targeted at making a whole new approach to life and that includes sobriety and I think that you know, even if it didn't includes sobriety, the approach to life that you're taking on is a great one! So, I think The 30-Day Sobriety Solution makes really a powerful program."
"You know I think I just, the main message I have, is that, I've never seen an approach to getting sober that makes you really get excited about that fact, you know, seems like a sentence into purgatory in other places that you look but this just makes it look like a really attractive solution to making your life and getting into a better place, so I'd say, that's my main message that is: If you wanna get excited about being sober then this program really works."
David's Sobriety Solution Story
David is in his early 50's, has been married for 23 years and has 2 children, 10 years old and 12 years old. From any outsiders point of view he has been a complete success in every aspect of his life. But, like millions of others, David drank almost every night. He tried AA and many of the common methods most problem drinkers do, such as changing what he drank, how often he drank, using willpower to quit on occasion, but he never was able to stay sober.
On the day of this interview David was able to reach 56 days of sobriety, after successfully completing The 30-Day Sobriety Solution, knowing now that sobriety was something to no longer be afraid of.
Listen to his interview below and read some of what he shares during this interview as he opens up about his past and his recovery.
UPDATE: As of today David has 374 days of sobriety!
[]
"Well, I think, what it is, it's a nice, neat set of instruction on really what to do. As I said in the past, I tried true willpower to quit drinking on my own and I tried all kinds of things and switching to beer or wine and tried AA couple of times and well, there are very nice people there, they don't really have a method, it's kinda ambiguous, so, this is something that I could sit down, I could do something every night and have all my home work and would tell me what to do and it would also help me with why I am feeling strangely this first week. There's a lot of fear there and is there something going wrong with me and then it's just comforting in that aspect and I think maybe just the type of person I am I need some sort of method and that's what it provided me."
"I do feel, especially after doing some of the exercises that you had in the program, that that had a quite an impact on me, especially the one where you look towards your future and what if you kept on going the same way and I don't want to keep doing that, I think that it just kind of showed me that this lifestyle can be more fun and can be more rewarding than going back, so I don't think I will. However, if I do have a slip I've got the program and I can always replay it."
Steve's Sobriety Solution Story
Steve is from Barcelona, Spain, has two grown up children and started drinking in his late teens, over 30 years ago. He was living life in a "half-hearted way, damaging relationships and health" before he found is way to The 30-Day Sobriety Solution.
Listen to Steve as he shares his story of recovery, or read some excerpts from his interview below.
[]
"what it gives is a plan and the tools to make the change stick and to help me to stay on the path that I chose and that I wanted to become the person that I wanted to be. On previous occasions I found that sobriety was a struggle, being sober I didn't feel happy and I didn't feel convinced it was going to be a success and I didn't really know where i wanted it to go, with the 30 day solution it helps a person to decide what is the goal and then gives the tools to get there."
When asked about level of confidence in staying sober "I do feel really very confident, it feels completely different from previous occasions. I've been practicing the techniques that I have learned in the solutions to overcome the negative thoughts and attitudes that have been dogging me and I think that as long as I can keep doing that I shouldn't have any problems and the longer I can keep going the easier it will be."
"Now I think it's possible to achieve some of the things I have given up ever achieving, like having a full and satisfying relationship with my partner, maybe progressing a little bit in my career – things that I had more or less given up on."
"I never believed that it would be possible for me to make this change and it is a life changing experience that is so worthwhile and that is absolutely essential"
Chris' Sobriety Solution Story
Now let me introduce to you Chris. In many ways getting to know Chris was like stepping back to the old me before I quit drinking. Chris and I both are around the same age, have been married about as long and have two kids roughly the same age. I was able to see Chris' life take one of the most dramatic changes I have personally seen anyone make in recovery.
Chris had the unfortunate and embarrassing experience of getting a DUI, had been to rehab on several occasions, tried therapy and AA, but it wasn't until he completed The 30-Day Sobriety Solution that he was finally able to get and stay sober.
Listen to Chris share his story of recovery or read below for some quotes from his interview.
UPDATE: Chris now has 694 days of sobriety and counting!
[]
"Within 15 days of starting this program, usually I'm in the slow part of my business right now and it's booming. I've never been this busy in my life. And I think it's just a lot to do with me being healthy and being focused on what I want, and it just seems to be a ripple effect. My family is happy. I am getting along better with my wife than I probably ever have. It's just good, we have more family time with the kids and you know I am just there. I'm living my life the way I should be. And not being taken from me like it used to be."
"I mean if somebody's wanting change in their life, this is the most effective thing that I've ever seen, I mean, that works! It puts everything together in a way, that I have never had it put together and it's easy to do, takes an hour or two a day. I 'm a living proof! It can make a dramatic change in your life for the better."
Here is what Chris wrote to me when he reached an amazing 131 days of sobriety!
"I completed The 30-Day Sobriety Solution and today I am excited to be celebrating 131 days of sobriety. Since starting my life has changed in so many ways that I am truly excited about what my future holds. For the first time since I got married, over 9 years ago, I haven't drank for 131 days. Prior to this I might have made it 2 weeks a handful of times, but even when I did that I knew I was going to be drinking again. And I always made up for lost time after taking some time off, but drinking a lot more than usual. I have been to rehab, on several occasions, therapy and AA, none of which worked for me, but with the 30-Day Sobriety Solution I finally found the answers I was searching for.
The great thing about The Sobriety Solution is it has taught me so many great things that I know will keep me sober, and not just for a few weeks, but I am confident I will stay sober for the rest of my life. I am actually surprised at even saying that, but I am a different person then when I started the program. The great thing is it wasn't really hard, it was just great content organized in really an amazing way that really gave me what I needed to make profound changes in my life.
I have a 5 year old and a 6 year kid and today I am confident that I will get to be a great Dad for them. I will actually be present instead of always planning the next time I would be drinking. Also what I am in awe about are the other changes in my life. Dave told me that what I am learning can help me in every aspect in my life and the crazy thing is I am actually seeing this to be true, specifically in my career. Usually this time of year is the slow season for me and I have a hard time making ends meet, but instead I am as busy as I ever have been. I am convinced it is because what The 30-Day Sobriety Solution has taught me. If you are struggling with alcohol abuse, or other addictions, I am convinced that Dave Andrews and The 30-Day Sobriety Solution can change your life. I feel incredibly lucky to have met him and am for the first time truly excited about what my future holds and for the first time sobriety doesn't seem so scary."
The Question is Are You Going to be the Next 30-Day Sobriety Solution Success Story?
What Is Included With The 30-Day Sobriety Solution?
When creating this program I learned in depth what those struggling with alcohol dependency needed and wanted. They wanted a comprehensive solution that they could complete in the privacy of their own home. They expressed that reading a book, even if great, or watching or listening to a CD/DVD, was just not enough to make lasting changes in their life.
The 30-Day Sobriety Solution offers you great content and then teaches you how to apply it in your life. It does this through an effective mix of quality content and exercises, daily inspiration and motivation to keep you excited and moving forward each day and real stories to help you learn and find your pathway to success.
If you could be handed the perfect instruction book for you to answer all your challenges in your life it would still only work if you learned, practiced and applied those instructions. It is my belief that when dealing with something as powerful as addiction that is not possible alone. That is why I walk you through each of these next 30 days making sure you understand the content and know exactly how to apply it in your life to thrive in sobriety.
To be specific you will get a powerful, inspirational and informative audio training for a full 30 days, that are approximately 30-45 minutes. This will be accompanied by a E-Book version of the content, the downloadable audio version and guided imagery and visualizations provided weekly. And the real "magic" of Your 30-Day Sobriety Solution, the life changing solutions that take you from where you are at today to thriving in sobriety.
Each day you will be taught one key solution, or concept, that will help you thrive in sobriety, whether you want to quit completely or just cutback. This content will be accompanied by inspiring stories and examples, related studies and facts on the topic and very specific ways that you can implement that teaching in your life instantly.
These daily solutions have been designed to build on each other, creating a completely new foundation for your new life, so by the end of 30 days you have built a entirely new set of core beliefs and values that make staying sober easy for you.
"How Much Work Is This Really Going To Be?"
The 30-Day Sobriety Solution is based off a very important concept. To overcome the grip that alcohol has on your life I have found that one key to success is daily interaction when starting down this path.
One of the most common responses I get is how great it is to have content to listen to every day as you start down this path.
That is why this program provides a new training solution 7 days of the week so you are able to get the support you need during the hardest stage of getting sober, the first 30 days.
Let's take a second to compare the time you will spend on this program compared to the time you spend, or lose, with your drinking habit.
How much time do you spend drinking a day or week, let alone a month? At a minimum I have gained back on average 3 hours a day of my life back since I quit drinking. That means I already have over 3500 hours of time back in my life since I quit drinking. That is the equivalent of 85 full time work weeks of my life back already.
What could you accomplish with the equivalent of 25 more full time work weeks every year back in your life?
How many years of your life are you going to lose at the end from your drinking? Getting sober will add back years to your life, and in many cases tens of years. How much time are you willing to spend in the next 30 days to make sure you get those years back?
And, of course, this is the ultimate question…
Can you REALLY afford to not try to get sober? Go back to the statistic of 2 million alcohol related deaths each year worldwide. When is it your turn to be this statistic? What night do you innocently start off drinking only to be found by a loved one the next morning because this time you were not so lucky? Personally I have no idea how I survived my last night drinking, and it still scares me to the core to think that my young children could have easily never seen their father again after that night.
So is one hour or less a day over the next 30 days worth investing to truly be happy, excited and sober? If you have tried and failed anywhere near what I did to get sober, only to end up worse off, this answer should be an easy one.
Tell Me about My Instant Access to The 30-Day Sobriety Solution
Yes, your access is virtually instant. You can start within minutes of signing up.
Everything in The Sobriety Solution can be found in your private client site that you will have complete access to for three months. But let me be very clear, although your access to this membership site is for three months you have complete access to all of the content. The videos, audio, guided solutions and E-Book's are YOUR content. You can choose to watch it online or you can easily DOWNLOAD it to your home computer to keep forever.
This private web "vault" is where you'll go to access, download and replay ALL of the material in The Sobriety Solution.
The moment you register for The 30-Day Sobriety Solution, you'll immediately be able to log in and review the 30-Day Sobriety Solution overview, which lays out very clearly the format of the program and exactly what you can expect.
Through this portal you will have direct access to The Sobriety Solution Client support team to ask questions and get guidance when necessary. Also you have direct access to me to personally help you along your path.
Also there will be other included options during your 3 month membership access, such as live teleseminars and webinars and specific content only for members. So when you are done with Your 30-Day Sobriety Solution you will get content that will make sure you stay on the path.
Also with the click of a single "Coaching" tab you have DIRECT access to my mailbox to ask me any questions you have along the way.
Watch the short video below to take a peak into The Sobriety Solution Membership site and access to your 30-Day Sobriety Solution.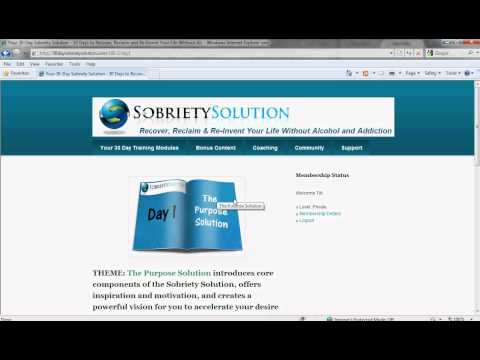 The 30-Days to Thrive Packet
What I am really excited about is in late 2012 I was able to put together the "30-Days to Thrive Packet". This will be mailed direct to you in a discrete package at no extra charge. It is optional to receive as I know some people are private and do not want this, so before mailing it I always send an email for you to "opt out" of receiving it. Although not a single person has yet and I have received rave reviews on it.
Here is what is included in the 30-Days to Thrive Packet.

Your 30-Day Flash Drive – This contains "The 30-Day Sobriety Solution" audio files as well as the accompanying reports.
Your Thrive Wristband – Some customers like to use the wristband as they start their journey to thriving in sobriety while others prefer to make it a reward when they reach 30 days of sobriety. Feel free to be creative in how you use it.
CSI: Courageous Stories of Inspiration – Autographed copy of my new book. I believe you will enjoy many of the various contributing others and their stories of inspiration, especially when you are feeling down, frustrated or scared.
Solution Overview – A summary of the daily solutions contained in "The 30-Day Sobriety Solution". This can be a great tool to help keep you moving forward and get you excited about upcoming content.
Solution Checklist – A bookmark/checklist that can be used to check off the solutions as you go, and quickly reference past solutions when you need to find information you covered.
Custom 30-Day Sobriety Solution Pen, Folder & Business Card – These act as a nice reminder of the journey you are on.
Here is a photo of everything in the package – you can see in the middle is the plain white envelope that will contain all of the items listed above.
Here Is A FRACTION of What You Will Learn Inside the Sobriety Solution
30 Solutions/30 Days – To Change Your Life & Thrive in Sobriety
The Sobriety Solution gives you the BEST inspiration and stories, the BEST tools and techniques, and the BEST models to follow to recover, reclaim and re-invent your life in the next 30 days.
Here is a sample of what you are going to learn when you take advantage of The Sobriety Solution:

A step-by-step method of reprogramming yourself from the inside out, so your mind links excitement with sobriety thereby making that your path of least resistance.
Proven strategies that will increase your likelihood to follow through with this program every day by EIGHT times and overcoming the common mistakes most people make that keep them from following up on their dreams and goals.
You'll learn the mindsets and strategies of people that learned how to thrive in sobriety, despite great challenges in life.
Why short-term and long-term results often oppose each other and how to recognize this.
The truth behind why alcohol is NOT the problem and how chasing after quitting drinking only makes sure you will keep drinking.
Learn why willpower to quit drinking will NEVER be enough and how to effectively use this amazing tool the right way.
Learn how to decide what you really want in life and exactly how to go about getting it.
Learn why you are only as good as your lowest level habit and how to make sure that habit isn't ruining your life.
The truth behind positive thinking and how to really use it. It isn't as simple as people like to make it out to be.
Discover how your mind is the GOOGLE for GOALS, and specifically how tapping into that potential will change your life.
Learn why the quality of the questions you ask equals the quality of your life and sobriety.
The truth about how alcohol has affected your health and how to make sure you can begin reversing the damage you have done.
How to not drink in ANY situation and not feel judged by others.
Understanding the other side of your drinking, the one that impacts friends and family, and how to restore those relationships and bring them to new heights.
Proof for how and why 30 days can completely transform your life and why making the commitment today is the first crucial step.
How to actually live in the present and truly enjoy the moment, rather than always escaping from your past pain or seeking out your future pleasure.
Understanding how to embrace and appreciate your fears and learn how to make them work for you instead of against you.
Learn how and what technologies can play a pivotal role in your sobriety.
Hear real stories, real solutions and real common mistakes of recovery most make along this path.
The truth about relapse and triggers and how to replace those with positive actions in your life rather than negative.
101 fun and exciting things you can do today to replace drinking in your life.
Simple actions to thrive in sobriety that can be done anywhere and at any time, without adding a minute of extra time to your day. Whether you are waiting in a line, stuck in traffic, bored in a meeting, you have time you can use today that "costs" you nothing, if you know how to best use it.
How success in sobriety and life can come as easily as asking the right questions in the right way at the right times.
How to create an empowering sense of self worth and value in your life by embracing your problems.
One 3 minute technique to ensure you wake up feeling excited, vibrant and inspired every day.
Learn how to avoid the peaks and valleys in energy levels most recovering alcoholics experience.
How and what key principles you have learned and applied over the 30 days can now be used to change every other aspect of your life.
How to go on a great vacation, having a ton of fun, all without drinking.
Uncover how your drinking leads to decisions that are in direct conflict with your core values, which in turn creates a greater desire to drink and use.
The Sobriety Equation and how you specifically can get this formula in sync in your life so sobriety is EASY.
Find out whether you can learn how to drink normally and socially ever again.
Discover the recovery stories of "famous" people and how you can learn from their mistakes and successes.
The truth about the Law of Attraction and how you are letting it run your life today without even knowing it.
Discover how to stop worshipping alcohol and find deeper meaning and purpose in your life.
Learn step by step the power of visualization and how to easily and effectively integrate it in your life to get sober.
Find out how advertisers and marketing is holding you back from ever getting sober, and how to reverse this affect and use advertising in your own life to get you excited in sobriety.
Why is pain a great thing in your life and how to make sure all the pain you have experienced directly and indirectly from your drinking is something you actually appreciate.
Learn why your addictive personality is actually a great thing.
The power and simplicity of gratitude and its impact on your sobriety.
11 Myths of drinking and sobriety and how these have kept you from ever getting sober.
Positive Addiction, yes there is a such a thing, and how to use it in your life to make sobriety a blast.
Discover what two interacting forces create a vicious circle of synergism that escalates your drinking and how to stop it today.
How one Oprah show will help you get over your guilt and shame.
Discover how playing the comparison "game" with your addiction and drinking has impacted your abuse and what you need to do to change this.
What does living in the present really mean to the alcoholic and addict, and how failure of awareness of this concept has a profound impact on your ability to get sober.
How goal setting can backfire and cause you to relapse, and how to ensure that this doesn't happen to you.
How beliefs are self-fulfilling prophecies and how thriving in sobriety can become a reality in your life because of this.
Learn about the placebo effect with regard to the conscious mind and the subconscious mind. How and why creating expectations for an outcome really works.
Realize how driving your car creates the ultimate understanding of the importance of the subconscious mind.
Introducing the learning ladder and where you are headed over these 30 days so you can climb the ladder to success.
Is alcoholism a disease and how the answer to this question is important to your sobriety.
Learn about Roger Bannister and his use of visualization to break the four-minute mile barrier that was considered physically impossible, and the three amazing things that can be applied directly to your goal of thriving in sobriety.
Read about the Harvard study on why your brain doesn't know the difference between something imagined and something experienced, and the importance of this concept in your life.
Your brain is the most powerful computer in the world, but as with all computers, learning how to use it is the challenge. Uncover how to use questions to unleash that processing power.
The importance of thoughts on our reality and our happiness and what the experts and philosophers have to share about this concept.
The vocabulary of people thriving in sobriety, the "negative drinking thinking," addiction, the downward spiral, and how to turn the lights on in a dark house the right way.
How Napoleon Hill's famous book, which took over 20 years to write, can teach you how to live a full, meaningful and prosperous life in sobriety.
Learn how to write your new story and new life of thriving in sobriety.
How to acknowledge, align and change the meaning of fear so that your irrational fears and doubts that you hide from with alcohol and drugs no longer control you.
Learn how to stop letting your emotions rule your life and lead you into compulsive and undesired behaviors. And 5 Simple Steps to breaking free from disabling emotions.
The Serotonin Stress Solution – Two reasons how one new technique in your life can dramatically change the happiness you experience WITHOUT alcohol.
All of this, and MUCH MORE – 30 Days/30 Solutions – To Transform Your Life & Thrive in Sobriety
The 30-Day Sobriety Solution Tuition
Before I answer this question I want to think about how much you drinking has cost you and how much it will cost you over the next month.
Most people I have encountered spend at least 10 dollars a day on average. And that doesn't even count the occasional more expensive night out. If you added up the numbers, you might be shocked to discover that you're already spending $500 on alcohol each and every month!
But for only one payment of $997, you'll be well on the road to recovery… and… ultimately, sobriety.  JUST ANNOUNCED – payment plan option, scroll down to find out more!
Yes, full access to The 30-Day Sobriety Solution is ONLY 997 dollars, which gives you access to all the content and 3 month access to The Sobriety Solution Private Client Site. I remember when I paid 250 dollars for just 1, 2 hour hypnotherapy session! And it wasn't guaranteed and it only resulted in 5 days of sobriety.
Not to mention, this one-time payment could save you $3,600 (or more) in alcohol expenses during the next 12 months alone!
And remember, if you are considering in patient rehab as an option these can easily run as high as $20,000-$30,000 dollars a month.
After 90 days you are rolled into The Sobriety Solution Membership Community, which is only 9.97 a month. As a courtesy to you, I will renew your membership each month until you tell me to stop.
Program Bonuses
Yes, I have some great program bonuses to offer you.
How would you like to increase your odds of success in sobriety by 200%?
If you sign up today you will get 4, yes FOUR, 30-Minute confidential over the phone sobriety coaching sessions. I often find in just one session we can have a breakthrough to propel you down the path to lasting sobriety, but you will get 4 personal sessions with me to help take you through the first month or sobriety (or use anytime in the next year).
In fact I have found when people take me up on my hundreds of hours of sobriety and life coaching experience their odds of success increase by 200%. Those are some great odds! Also it worth noting I have had people pay me as much as 2,000 dollars for my coaching services (I am a Certified Life Coach).
Chris is one of many that has taken advantage of 1:1 coaching with me and here is what he says about the experience:
You get Direct Access to my mailbox 24/7/365. Everyone that is part of The 30-Day Sobriety Solution program and membership community will get personal emails and responses from me to help you along the way. We all get stuck, and sometimes you just need the support and feedback from someone that knows what it is like.
You will also get bonus content to help you through some of the challenges seen in the first 30 days. New bonus content, such as The Relapse Solution, will be provided to you throughout the program to ensure your success along the way.
You get access for 90 days in The Sobriety Solution Membership Community. The community takes what you learn in The 30-Day Sobriety Solution and gives you the exact content, tools, inspiration and access you need to get you through the hardest part of sobriety, the first year.
Money Back GUARANTEE
At this point I believe it should be clear to you that I believe whole heartedly in The 30-Day Sobriety Solution and what it can do for you.
I have invested an incredible amount of my own time, effort, energy and money to create this program and deliver it to you in a way that makes it easy and effective. I believe the quality of the program will speak for itself once you get sarted, and feedback has validated this.
Regardless I want to make sure you are comfortable with the training I produce so it comes with a 100% money back "no questions asked" guarantee for the first 30 days.
The money back guarantee is simple:
Try The 30-Day Sobriety Solution for 30 days and if you are not totally thrilled you simply contact me and for a quick and cheerful full refund, no questions asked. Even if we already did the bonus coaching session!
Still Not Convinced?
What if I were to tell you that this program is now available all for the price of a book? In 2014 bestselling author Jack Canfield and I signed a record publishing deal in the recovery space to publish The 30-Day Sobriety Solution. Since that time we have been tirelessly at work making the program even better, and creating a fantastic companion website you can access for free when you buy the book. Learn more about it here – The 30-Day Sobriety Solution.
d
.
The 30-Day Sobriety Solution is the premier online course which contains proven audio, video, workbook materials and solutions to get you started on your path to immediate and lasting sobriety that now can be purchased for the price of a book.
See you on the other side!
Dave Andrews
P.S. It's usually the things we haven't tried yet that fix the old problems. I'm here to help.